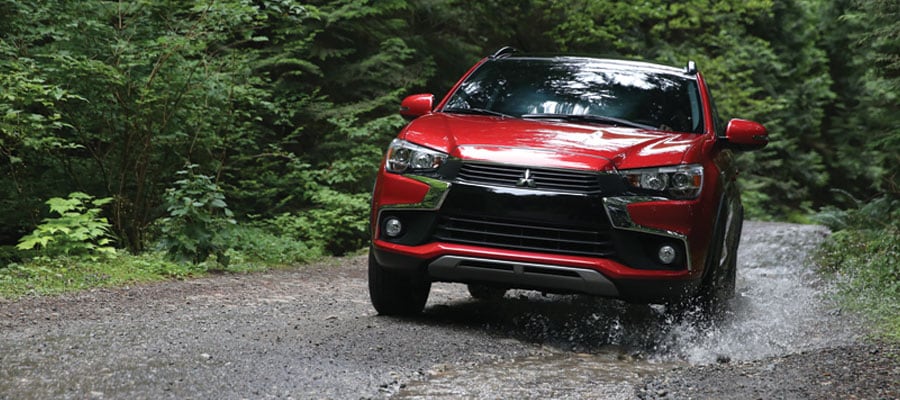 The Competence and Practicality of the Outlander Sport
The Mitsubishi Outlander Sport is a modern vehicle that offers advanced features among other aspects that make it an appealing compact SUV. Features like 4-wheel drive options, advanced safety features, and sculpted styling make the Outlander Sport a well-rounded vehicle that stands apart from the competition. Its generous warranty coverage boasts Mitsubishi's confidence in this vehicle, and the Outlander Sport's outfitted modern cabin puts a taste of luxury in the driving experience. Check out the Outlander Sport at Ray Brandt Mitsubishi and experience the dynamic capabilities of this exceptional crossover SUV.
Why Drive the 2017 Mitsubishi Outlander Sport?
The 2017 Outlander Sport continues to leave the competition behind. It now offers on-board navigation, 6.1 inch touchscreen display, and rearview camera standard. Additionally, it has new entertainment options like AppleCar Play and Android Auto as well as heated steering wheel options to improve the cabin experience. Also new on the 2017 Outlander Sport are automatic high beam headlights, power folding mirror options and automatic wipers. All of these new features, on top of xenon headlights, split folding second row, and LED running lights that already come on the Outlander Sport, are what make the 2017 model determined and composed. The 2.4-liter engine and 4-wheel drive setting make the Outlander Sport versatile off-road as well! The Outlander Sport also offers remote ignition, ambient lighting, and rear parking sensor options that offer a contemporary, if not, futuristic feel.
The Onset of the Outlander Sport
After its initial launch in 2010, the Outlander Sport quickly assumed its place among the competition of other crossovers on the market. It was based on the Mitsubishi concept-cX prototype and emphasized fuel economy and low emissions. The Outlander Sport was further developed offering lower drag coefficient, advanced safety features, suspension improvements, as well as the plug-in hybrid option. Since its recent release, the Outlander Sport has been outfitted with newer and advanced features. Mitsubishi continues to innovate and add to this multifaceted vehicle and lead the competition in the compact crossover class.
Find Your Outlander Sport at Ray Brandt Mitsubishi
When you buy a vehicle at Ray Brandt Mitsubishi you gain more than a reliable vehicle, you get a reliable community as well. Ray Brandt Mitsubishi is here to assist you in the process of choosing your vehicle, as well as the process of financing and maintaining it. We don't resort to buying pressure; instead, we listen to the needs of our each customer and help guide them to a vehicle that suits them and their needs.
Once the decision has been made, we become a resource not just a car dealer. We are here to help educate our customers so they can get the most out of their vehicle. Ray Brandt Mitsubishi's unique approach to the automotive industry makes us an appealing alternative to mainstream car sales strategies and exhaustive tactics that other dealers might use. We believe in a comfortable experience for our customer, and that is what we offer. Come into our dealership in Harvey, LA today to see what else we have to offer or get behind the wheel of a 2017 Mitsubishi Outlander Sport today!