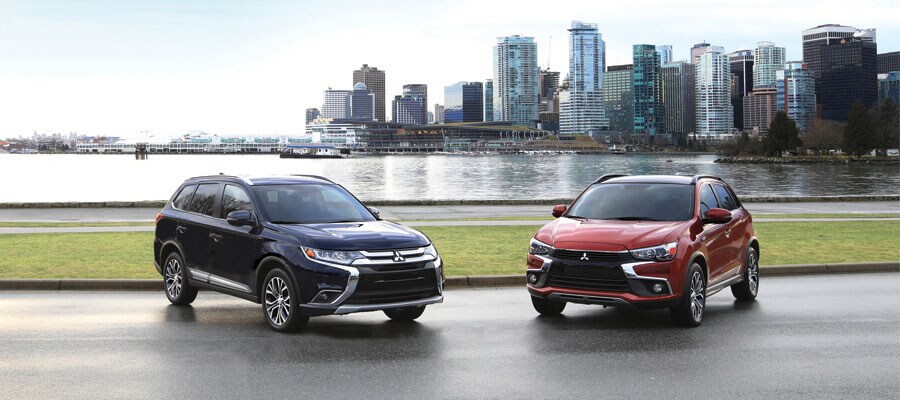 Mitsubishi Outlander: Fully Loaded and Efficient
The Mitsubishi Outlander is much more than just a fun and efficient crossover. This vehicle is also safe with more recent models featuring Forward Collision Mitigation, Adaptive Cruise Control, and a Multi-View Camera System. You can fit up to seven people in the Outlander, yet it is able to get impressive gas mileage, a combination that is very rare in this market. Those who only need room for five passengers will appreciate the Outlander Sport, which is inspired by the Outlander, but smaller and featuring a lower starting price.
2017 Outlander: What's Been Updated
If you remember correctly, the 2016 Outlander saw chassis improvements and updated exterior styling elements. Even with these recent changes, Mitsubishi found ways to enhance the 2017 Outlander, making it even more appealing. Now the SE, SEL or GT models all come standard with Android Auto as well as Apple CarPlay so you can connect nearly every smartphone with ease. Safety is also enhanced across the lineup, with every 2017 Mitsubishi Outlander featuring a backup camera. The SEL and GT trims also now offer optional forward collision mitigation featuring pedestrian detection and a multi-view camera. The SEL also adds the options of blind spot warning and rear cross-traffic alerts, features which are standard on the GT.
The 2017 Outlander Sport sees a few changes of its own. Every single trim of this model now has automatic climate control as standard. They also all feature a roof-mounted shark-fin antenna. Those who are interested in the Outlander Sport ES or the front-wheel-drive GT will no longer be able to opt for the 2.4-liter 4-cylinder engine, meaning these trims are now only available with the 2.0-liter 4-cylinder. Other than these changes, the 2017 Outlander Sport is identical to the previous model year.
Read more.
Mitsubishi Outlander History: Tracing the Crossover's Growth
Mitsubishi introduced their first SUV, the Outlander, in 2003. The Outlander was always packed with features, had plenty of power, and was highly customizable. The 2.4-liter engine got enhancements for 2004, boosting its output to 160 horsepower. The 2005 Mitsubishi Outlander added an available manual transmission along with new disc brakes and advanced airbags and some adjustments to the trims. Side impact airbags and ABS joined the growing list of safety features the following year.
For the 2007 model year, Mitsubishi redesigned their Outlander, adding upscale features and making it larger. This was also the year that the third row of seats was added. The powertrain was also upgraded to a V6 with 220 horsepower. For 2008, drivers were able to pick the V6 or a 4-cylinder engine and a CVT was standard. After a year with minimal changes, the 2010 Outlander got significant redesigns, including new fascias in both the front and rear, a new mesh grille, a new hood, new fenders, and updated GPS system, the last of which had upgraded functions and a new LCD display. The next complete redesign took place for the 2014 Mitsubishi Outlander, when this SUV once again grew to create a more spacious cabin that also grew in luxury and technology was enhanced.
Where to Find the Mitsubishi to Fit Your Needs
Those who are in the market for a crossover that is versatile and safe should consider the Mitsubishi Outlander. At Ray Brandt Mitsubishi-Harvey in Louisiana, our professional team is able to answer all of your questions about different models and features. We are happy to help you through the financing process with a department right at the dealership offering competitive rates. Schedule a maintenance routine with our certified mechanics to ensure your new vehicle lasts. Contact us or, better yet, stop in today and take your preferred model for a test drive!