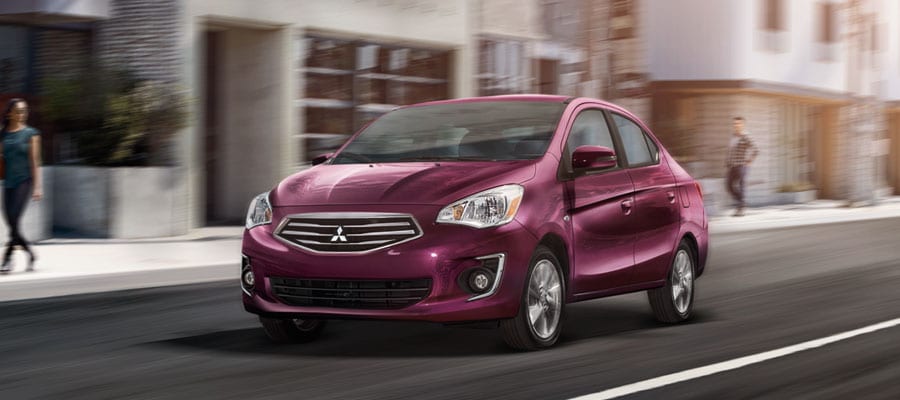 Mitsubishi Mirage G4: Impressive Features and Efficiency
The Mitsubishi Mirage G4 offers the features you want at a generous price point. This subcompact vehicle is certainly a competitive option for those in the market. This vehicle offers a taste of luxury as well as outstanding fuel economy. Come into Ray Brandt Mitsubishi to get behind the wheel of the Mitsubishi Mirage G4 and witness the value that this vehicle has to offer.
All New 2017 Mitsubishi Mirage G4
Mitsubishi held nothing back when redesigning their subcompact Mirage G4. The vehicle offers an astonishing value for the price. Offering luxury features from automatic headlights, rearview camera, and keyless ignition to heated seats rears parking sensors and a 6.5-inch touchscreen display. Additionally, the Mirage incorporates both Android Auto and Apple CarPlay for improved entertainment. On top of the Mirage G4's exceptional feature options, it offers an estimated 37 mpg* combined (35mpg City/ 42 mpg highway) which is remarkable for a non-hybrid vehicle. So, save on your luxury driving experience with the Mitsubishi Mirage G4's benevolent price point and save at the pump with its extraordinary fuel efficiency. Come into Ray Brandt Mitsubishi today to test drive a 2017 Mirage G4 or start shopping online and view our new selection of Mitsubishi vehicles.
History of the Mitsubishi Mirage G4
The Mirage G4 has a long history of satisfaction as a subcompact vehicle on the market. Its first launch was in 1978 as a hatchback, and it has evolved continuously since then. In 1988 the liftback version was introduced, and in 1991 the Mirage G4 coupe launched. After an extended sabbatical from 2003 to 2012, the Mirage G4 is back better than ever. Offering advanced technology and safety features, comfortable cabin, and unparalleled fuel efficiency with the lowest drag coefficient in its class. It's been an eventful journey for the Mitsubishi Mirage G4 and, after a 39-year evolution, the Mirage G4 remains an impressive competitor in the subcompact market.
Ray Brandt Mitsubishi Experience
When you drive into Ray Brandt Mitsubishi you become our first priority. Whether you are in to purchase a vehicle, get vehicle maintenance or another of the many services we offer, our team makes it a point to welcome you. Our dealership is well equipped and well stocked with a substantial collection of new vehicles as well as an extensive selection of used vehicles. Our staff is friendly, knowledgeable, and, most importantly, accessible. Our sales and service representatives listen to your concerns first so that they can direct you most effectively and don't impose buying pressure like other dealers.
At Ray Brandt Mitsubishi we promote a quality service, quality vehicles, and a comfortable environment. So come on in and test drive an all-new 2017 Mitsubishi Mirage G4 near New Orleans.
*Based on EPA mileage ratings. Use for comparison purposes only. Your mileage will vary depending on how you drive and maintain your vehicle, driving conditions and other factors.