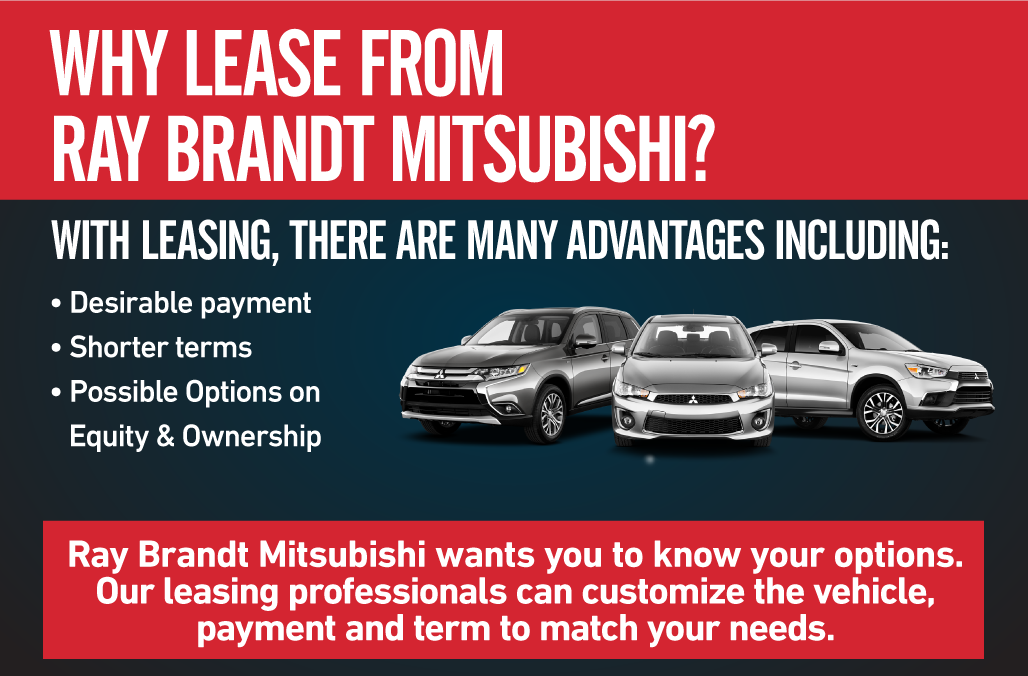 Leasing with Ray Brandt Mitsubishi in Harvey, LA
Choose Ray Brandt Mitsubishi to lease your next vehicle! We offer the newest models and feature options while still providing low monthly rates. Many of our customers have not considered leasing before, but if you are the type of person that likes to drive the newest style consistently with minimal commitment and low monthly payments then leasing may be the right choice for you.  
Our selection is extensive so we are confident that we'll have a vehicle that suits your needs. Plus, our knowledgeable staff can aid you in your selection. They listen to your needs and can make suggestions on the vehicle that befits your needs while remaining within your designated budget. They'll offer a professional perspective so that you can make a responsible and informed decision on which vehicle to lease.


Benefits of a Car Lease
When you lease you can drive confidently in the newest styles, with modern features, and in a new car with a low monthly payment. Leasing can be right for many people because it gives the security of driving a new car that is meticulously maintained by our dealership's service center! 
In addition to having the confidence of driving a sound vehicle, leasing can offer some people an alternative to buying when they cannot make a commitment to a vehicle long term. For those people who know they will only be around New Orleans for a few years, leasing offers a hassle free way to get around. Simply select the period of your lease and then drop the car off at the end with no hassle of selling the vehicle.

Ray Brandt Mitsubishi Leasing
Leasing with Ray Brandt Mitsubishi is a hassle free and rewarding process. Our staff makes sure to listen to your needs before helping you select a vehicle, so you can benefit the most out of a vehicle that is suited for you. Our service center maintains your vehicle throughout your lease too, so you can drive with and easy mind and focus on the road. Come into Ray Brandt Mitsubishi to lease your next vehicle and become part of the Ray Brandt family.